Operational Tools, Uncompromising Science
Research-grade hydrological modeling based on the Distributed Hydrology Soil Vegetation Model (DHSVM), developed by Wigmosta et al. (1994) and the Pacific Northwest National Laboratory
Exclusive automatic processing workflow sets up and calibrates DHSVM for any watershed in the West
Best-in-class remotely sensed snow data assimilation using the Snow Assimilation Water Accounting Method (SAWAM), matching observations while preserving the mass balance and model physics
Daily to seasonal water supply forecasts (WSF) available for any watershed in the West using historical ensemble meteorology data or subseasonal-to-seasonal (S2S) weather forecasts in the sole-source DHSVM Auto-WSF framework
Specializing in multi-day, high-elevation, backcountry snow surveys in remote mountains
Cooperating with Airborne Snow Observatories, Inc. (ASO) to constrain snow densities in snow water equivalent (SWE) maps using multi-day field surveys and machine learning in the Wind River Range
Deepest snowpit ever measured in Wyoming: 4.85 m / 15.9 ft. deep, 2.75 m / 9.0 ft. SWE
Multi-objective decision support tools provide concrete pathways to manage competing economic, cultural, and ecological water resource goals in response to forecasts
Pioneering the development of Forecast-Informed Agricultural Adaptation (FIAA) to optimize seasonal planting, irrigation, diversion, and recharge strategies at the irrigation district scale
Collaborating with the Wind River Water Resources Control Board to promote the 15 beneficial uses of water identified by the Wind River Water Code of the Eastern Shoshone Tribe and Northern Arapaho Tribe using Mountain Hydrology LLC water supply forecasts
NSF Graduate Research Fellow in Hydrology at the University of Nevada, Reno
B.A. cum laude Dartmouth College, Physics and Environmental Earth Sciences
To advance the science of mountain hydrology with holistic research at the intersection of observation, modeling, and policy; to deliver operational tools leveraging the best-available science; and to promote the resilient and efficient use of Earth's water resources.
Principal investigator of the Wind River Mountain Research Lab, dedicated to furthering the scientific understanding of cryospheric and hydrologic processes in the Wind River Range, Wyoming
Collaborating with the Wind River Water Resources Control Board, which represents the water interests of the Eastern Shoshone and Northern Arapaho Tribes on the Wind River Indian Reservation, to explore linkages between Tribal water rights and physical hydrology in a changing climate
Collaborating with ASO to map the Wind River Range glaciers using lidar across multiple ablation seasons
Collaborating with the University of Nevada, Reno, to model the interaction of wind, snow, and glaciers, and predict how climate change will disrupt historical streamflow patterns
Collaborating with the Office of the Tribal Water Engineer to quantify the heterogeneous vulnerability of irrigation districts to shifting cryospheric storage cycles and identify opportunities to increase agricultural resilience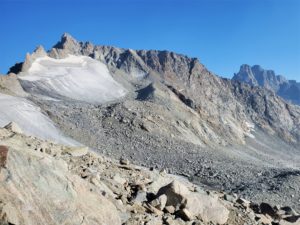 Airborne Snow Surveys for Water Supply Forecasting in the Wind River Range, WY
Part of the Bureau of Reclamation's Snow Water Supply Forecasting Program
Developing…check back soon!
Experimental Water Supply Forecasts in California
Real-time demonstration of the DHSVM Auto-WSF framework for select basins in water year 2024
Contact Eli Boardman for more information, or to request a forecast demonstration in your basin!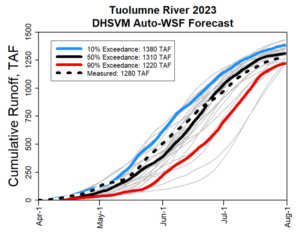 Deep Drift Snow Fieldwork
Conducting yearly snow surveys in the Wind River Range, Wyoming to measure the properties of deep snow drifts (>3 m), which are rarely sampled and poorly modeled
Preliminary results challenge the conventional understanding of processes driving snow densification in windy environments
Invented a new method to identify rating curve discrepancies using ASO SWE data and reservoir inflow records, leading to the revision of historical USGS data for a major stream gage [link]
Established and actively maintain 2 real-time stream gages in the Wind River Range, including acquiring winter low-flow data requiring extensive ice removal, rarely achieved for similar streams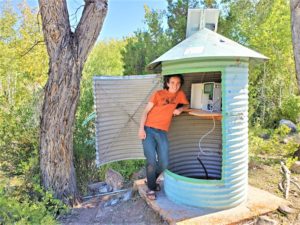 A Nevada Limited Liability Corporation
All Rights Reserved. Copyright Eli Boardman.